NDAs (also known as non-disclosure agreements and confidentiality agreements) are an essential element of any deal. Without an NDA, there is nothing to protect a business that shares confidential material during the deal-making process.
Though essential, the NDA has a reputation for being inconvenient, even dreaded, by both sides of the deal. Getting a non-disclosure agreement signed is time-sensitive, but the process can be bogged down by multiple downloads, red lines, and negotiations. There's also no easy, clear audit trail for legal purposes. Suffice to say, there's nothing like a non-disclosure agreement to kill the momentum of a fast-moving deal.
Luckily, that's all about to change. DocSend is proud to announce the launch of One-Click NDA, the fastest, easiest NDA signing option available. With our new feature, business leaders can securely share sensitive documents, track how people engage with them, and execute NDAs—all from one single place.
Get started with DocSend's One-Click NDA
If you're on a DocSend Advanced or DocSend Enterprise Plan, you can use One-Click NDA immediately.
Start by clicking on the Content tab to upload your non-disclosure agreement (you can create one using this NDA template). You'll then need to enable eSign for the document, and update your settings in the NDA Settings tab. Once you're ready, you can add it as a requirement to anything you share by simply clicking a box.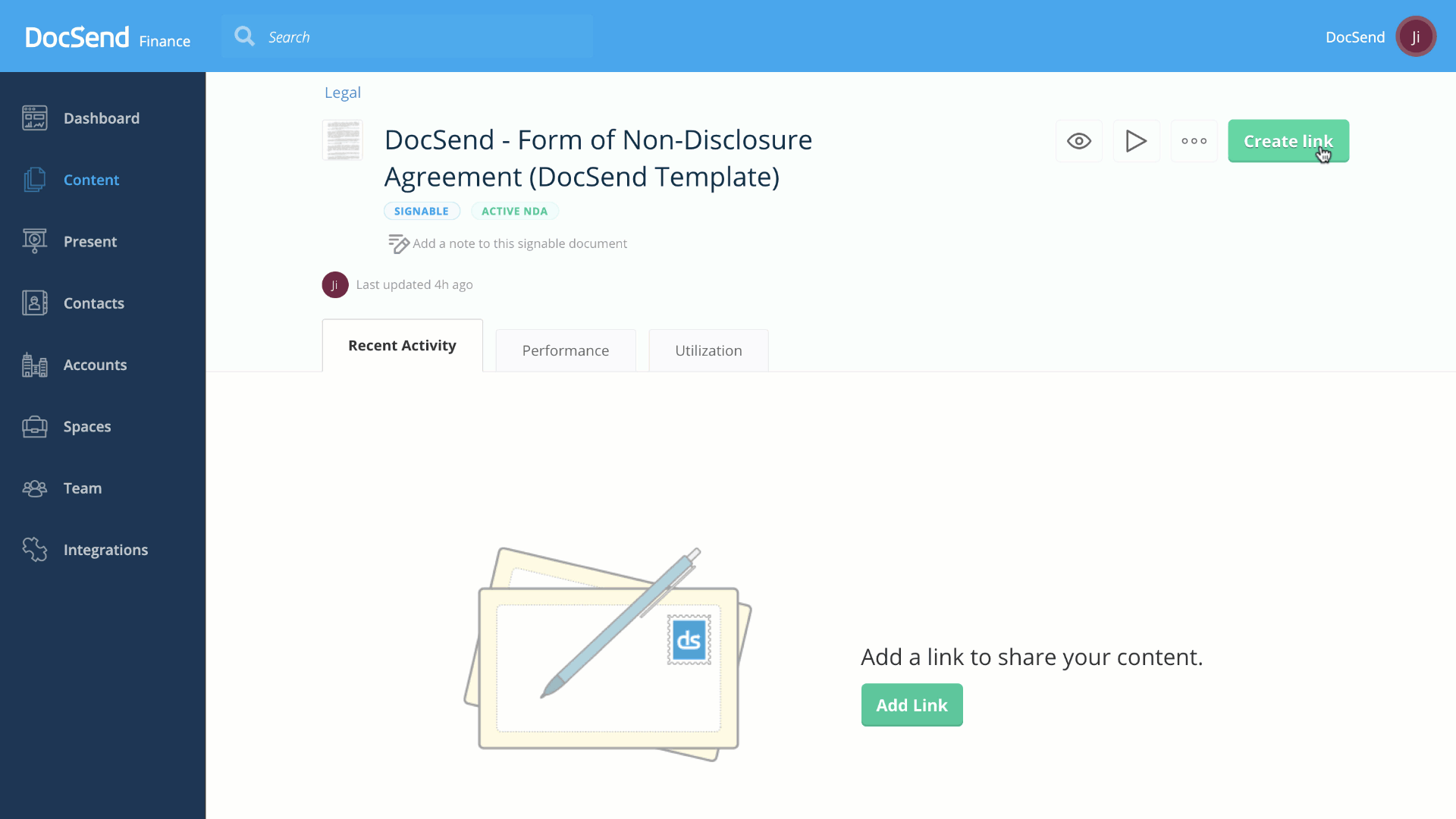 The process of adding an NDA to a DocSend Space is just as seamless. You can create links with NDAs from both the Google Chrome extension and Outlook extension. For more on this, and to learn more about DocSend user and signer requirements, click here.
Now let's explore some of the most popular and impactful use cases.
Private equity: Fundraise with confidence
When it comes to fundraising in the private equity world, security is key. You certainly don't want your confidential information and fundraising materials shared with other investors. This means NDAs are often a necessity. Once your NDA is uploaded and identified in the Settings, you can apply it to your pitch deck by simply checking a box.
However, the act of sending an NDA to an investor's team can become a redlining-fueled distraction. If you're negotiating the terms of your NDA, you've officially lost track of your deal and your investors attention.
With DocSend's One-Click NDA, the focus remains on your fundraising pitch deck and not on your confidentiality agreement. Plus, you'll be able to track investor engagement automatically.
Click here for an example of a pitch deck shared with One-Click NDA.
Investment banking: Master your mergers and acquisitions
If you're an investment banker in the M&A (Mergers & Acquisitions) business, you already know just how severely time can kill a deal. So why waste precious time with the legacy NDA signature process?
DocSend's One-Click NDA empowers you to approach secure document sharing for both buyers and sellers of client companies in a scalable way. In a few quick minutes, you can upload your confidentiality agreement and apply it with one click to all potential buyers when you share a link.
It's also incredibly important to ensure that you aren't discouraging prospective buyers from accessing or engaging with your materials. DocSend makes the entire process simple for the viewer by allowing them the option to download your NDA.
In fact, DocSend automatically records a full audit trail of all actions and will send you a notification as soon as your NDA is signed.
HR: Seamlessly showcase company culture and performance
HR shouldn't be focused on coordinating NDA signatures. They should be focused on growing and supporting teams that drive company growth and revenue. With DocSend's One-Click NDA, recruiters can safely share proprietary information with prospective candidates by seamlessly adding NDAs to any company documents. Now you can confidently share your overview deck, financial information, performance metrics, and other materials with your candidates.
With this new feature, HR teams can put their best foot forward in the recruiting process. (Click here to check out a sample Space with One-Click NDA!)
One-Click NDA also enables HR teams to optimize the new hire onboarding process. By handling confidentiality agreements with a simple click during the onboarding process, HR teams can focus their time and energy on what matters. Training and new hire support. Plus, they receive a notification, and automated audit trail, when candidates have signed.
During the recruiting, offer negotiation, and onboarding processes, the transfer of confidential information and materials to candidates and new hires is unavoidable. DocSend's One-Click NDA gives you a foolproof way to seamlessly and scalably protect your company while giving candidates and new hires the intel they need to learn your business.
Business Development: Safeguard your partnership process
Forming and maintaining high-value BD deals means you're constantly sending confidential materials to your potential partners. From business plans to product roadmaps to performance data, you need to have  way of keeping everything secure. Once you've equipped your BD deal room with One-Click NDA, you'll be able to streamline your entire process. In this way, you can take BD deal velocity to the next level without worrying about your confidentiality agreement.
Click here for a sample deal room with One-Click NDA enabled.
As we've mentioned, One-Click NDA is fully compatible with DocSend Spaces. This means you can upload and send all the files pertaining to a prospective partner with a convenient, easy-to-sign NDA.
Whether you are working a private equity deal, onboarding new hires, or working on a high profile business partnership, DocSend's One-Click NDA is here to add that extra layer of document security to the confidential materials you're sharing.
If you don't have an account on our Advanced or Enterprise plans and wish to make your NDA signing process seamless with a built-in audit trail, you can upgrade by clicking here. Or please feel encouraged to request a demo, or give us a call at (888) 258-5951. We look forward to hearing from you!